Going down the big slide at Grass Lawn Park
Tuesday, June 2nd, 2009 ~ posted by Scott

Nicholas counts to 10 and sings his ABC's
Wednesday, May 20th, 2009 ~ posted by Scott

Will is 4!
Tuesday, April 21st, 2009 ~ posted by Anna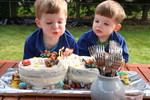 Last year it snowed for Will's birthday but this year we were back to beautiful sunny weather in the 70's. All of Will's grandparents made it for the big day - which is no small feat in our families, and other friends and family celebrated as well. Will wanted a "Car Movie" theme, and thanks to inspiration from a friend's version of a race track cake, he got a race-track car movie cake. yum! Photos Here.
Because my eyes are blue
Tuesday, March 17th, 2009 ~ posted by Scott
It was an overcast evening tonight during our post-dinner walk. In the final stretch down the hill to our house the following exchange of words occurred.
Will: "I see a lot of stars"
Dad: "Well, if you see a lot of stars, you have better eyes than I do."
Will: "Yes I do, because my eyes are blue."
Potty training
Saturday, February 28th, 2009 ~ posted by Scott
We're one step closer to being a diaper free house, not that I have any illusion that it's going to happen in the next year or two even.

Nick has occasionally been sitting on the potty, not doing anything, but clearly showing signs of being ready to potty train. Anna came up with the brilliant idea of bribing him with M&M's, which worked on the first day! Nick earns one M&M each time he pees in the potty. On that first day he earned five M&M's, amazing.

A couple nights ago Nick patted the front of his diaper and said "Nick poop". To which I respond, "Nick do you have to go pee pee?". Nick says "Yesh". I fully thought that he had already peed in his diaper, but when I took him to the toilet his diaper was dry. He sat down and peed quite a bit. I was shocked. This kid just turned two and he told me that he had to go pee, before he wet his diaper.

We haven't had a repeat of this miraculous event, but Nick is definitely well on his way. We're hoping that both boys will be in day-time underpants by summer time. We'll see.
I'm not bigger yet
Saturday, February 28th, 2009 ~ posted by Scott
Will has a couple speech habits that we're trying to break him of, such as using the 'f' instead of 'th' and 'w' instead of 'v'. Tonight in the car, driving home from Tyler's 9th birthday party...

Will: "I had a wary, wary, wary good time".
Dad: "Will, can you say 'very'?"
Will: "Yes I can, but I don't want to because I'm not bigger yet"
Dad: "Nick, can you say 'very'?"
Will: "Nick, can you say 'very'?"


Will is such a little scammer. He totally knows how to say things correctly but is playing the "I'm not bigger yet" card. He does the same thing with the alphabet, singing "j,k,l,o,p" skipping "m,n". He knows to put them there but chooses not to.
I have sticky toes
Friday, February 20th, 2009 ~ posted by Scott
I'm not sure why this made me laugh so hard. Maybe it was the gin & tonic in my system. Will was standing over by the computer and just declares "I have sticky toes". I'm not sure where that came from, but it was some good comic relief.
Nick is two!
Monday, February 16th, 2009 ~ posted by Anna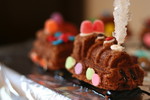 I can see that we are 4 months behind in photos. Well I do apologize, and I give you February. This weekend we had a nice Valentine's Day, and on Sunday celebrated little Nick's 2nd birthday. I'm truly a bit shocked that 2 years has sped so fast! We invited many friends, and it turned out they all stayed in town just to help celebrate Nick's birthday despite a 3 day weekend! ~ full story
More counting...
Wednesday, February 4th, 2009 ~ posted by Scott
Seriously. Nick is a genius. Tonight Will was counting marbles "five, six, seven..." and Nick chimes in "eight, nine." He's not even two years old!
Counting
Tuesday, January 27th, 2009 ~ posted by Scott
Nicholas continues to amaze us. Just last week he started counting to 2. He'd pick up two trains and count 1, 2. Well in the past couple days he's figured out three! So, a couple weeks away from being two years old he can already count to three!
I miss mommy
Friday, January 16th, 2009 ~ posted by Scott
So Anna left tonight for a weekend away with some friends. I'm putting Will to sleep, reading "Just me and my dad" by Mercer Mayer. I commented to Will that "hey we're like like, just Will and dad reading books." To which Will responds "no, it's daddy, Will, and Nick." I ask if he likes it, just us three? "No, I like mommy, daddy, Nick, and Will." he says. He misses mommy.

In other news, Nicholas is talking up a storm. I'm sure he's up to 200 words by now. Just tonight he learned to say "bicycle", which he pronounces "by by coo". Very cute.

Nicholas has also started pre-school! He is in the same class that Will was in last year. Our neighbor's daughter Lizzy (2-3 months older than Nick) is in the same class too. During class, at a certain point, they walk from one room to another and the kids are supposed to pair up, holding hands. Anna was watching and said that Nick was the last one to pair up and Lizzy was standing, waiting for him. They left the classroom holding hands. How cute is that!
The Alphabet
Saturday, December 27th, 2008 ~ posted by Anna
So Will has been singing the Alphabet song for quite a while now, and likes to sing it loudly and frequently - and to be honest, quite clearly. Nick, we've noticed, has been able to hum little tunes for a month or so such as "Twinkle, Twinkle Little Star" and tries to sing a little of "Baa Baa Black Sheep". Tonight there was a round of the Alphabet song and Nick started with a baby version of "a,b,d,d" and then a fit of giggles, but in tune. And then Scott started again with "a,b,c,d" to which Will sang "e,f,g" and then Scott "h,i,j,k" and then Nick - to our great surprise "l,m,no" and we all stared at him with our jaws dropped.

During their bath, Scott threw out a ton of words for Nick to repeat, such as French Fries, Hot Dog which Nick loves to say. He then started quizzing Will on wine terms, and Will handled most quite well "Burgundy, Pinot Gris, Merlot, but Gewurztraminer did trip him up a bit. Very cute.
Snow Day
Thursday, December 18th, 2008 ~ posted by Scott
I had a close call (not too close though) on the way to my regular Thursday morning run today. A car in front of me was going very slow and a semi truck was coming up behind me and started to jack-knife because he couldn't slow down to our speed. He straightened and jack-knifed a couple times and kept getting closer, 30-40 yards at the closest. I had to lay on the horn to get the car in front to speed up. There were a bunch of cars in the guard rail and if we didn't get out of the way of the semi he would have taken out about 5 abandoned cars and a police officer who was standing on the highway.
appa-pus
Saturday, November 15th, 2008 ~ posted by Scott
So the other night, I'm straining some applesauce that Anna made and I ask Nick if he wants some. He says "appa-pus", which I take to mean applesauce. See, he's been talking quite a bit lately and picking up words like nobody's business. He'll often put two words together like "mo mih" (more milk) or "momma bah" (mommy back).

Anyway, Anna was out and I was pretty excited about Nick learning a new word. When she got home I asked Nick to say applesauce and he promptly says "appa-pus". I'm so proud. But then Anna says, "oh, that's octopus, he's been saying that for a couple days now".

That's what I get for being a working stiff instead of a stay-at-home dad.
Buttermilk Pancakes
Sunday, October 19th, 2008 ~ posted by Scott
2 cups flour
2 cups buttermilk
2 eggs
1 tsp salt
1 1/4 tsp baking soda
3/4 tsp baking powder
4 Tbsp melted butter


Combine dry ingredients then add the wet ingredients. Don't overmix and let the batter sit for 5-10 minutes before cooking. A tasty variation is to do 1 1/2 cup flour and 1/2 cup of flax seed meal.
XML error: SYSTEM or PUBLIC, the URI is missing at line 1